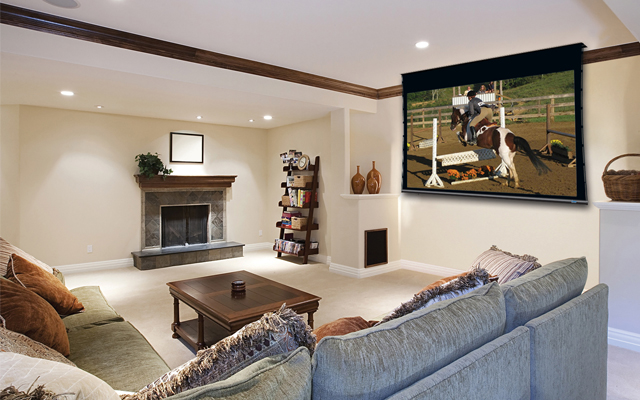 Having a media room in your home can be the perfect way to relax and socialize with friends and family. While you're at home, it's nice to have a place that you can use for all types of entertainment possibilities. Media rooms are very versatile spaces that everyone will enjoy, especially with the added benefits of smart home technology that bring you luxury, comfort, and convenience.
The Comfort and Convenience of Being at Home
If you're like most of the population, then you love watching movies or shows, enjoying sporting events, or even watching concerts at home. It's comfortable, convenient, and allows you to unwind from the craziness of your day-to-day routine.  
The absence of distractions is another major perk of staying home for entertainment purposes. There's no better way to enjoy a movie or game than without having to worry about anything else happening around you while it's on.
The media room is much more than an at-home movie theater. While it does typically house a large flat-screen TV or projection system, it's more of a multipurpose space with luxury seating and surround sound to help create the ultimate social experience. The ideal room to enjoy your favorite entertainment with friends and family.
A Place for Friends and Family to Enjoy
A media room is a place where you can hang out with your friends and family, relax and enjoy each other's company. In fact, in some homes, it has become the main gathering space for socializing.
Whether you're inviting family members over for dinner, throwing an elaborate themed party, or having a cozy night in with a few friends, this space gives you the opportunity to create an atmosphere that suits your needs.
Host Watch Parties for Big Sporting Events and More
BIG games or matches are even bigger in a media room! Whether we are speaking in terms of the picture or sound, you'll feel like you're in the front row. Some media rooms have built-in seating and bars, so it's like you're sitting in luxury box seats right at home. There are many ways to customize the design of your media room to suit your lifestyle needs and aesthetic. But one thing is for certain; when it comes to making life a little bit easier, you'll want to take advantage of the numerous ways smart home solutions can help you out.
Conclusion
If you're looking for an entertaining space that can be easily converted into a guest room and has a lot of potential for creative uses, there are many benefits to be had from this type of addition. At Buday's Home Electronics Simplified, we take pride in helping you create a space customized to you. Call us today at 269-492-1008, Option 2, to discuss the best solutions for your home. Or send an email to [email protected] with the Subject: Blog – 3 Reasons To Have A Media Room In Your Home