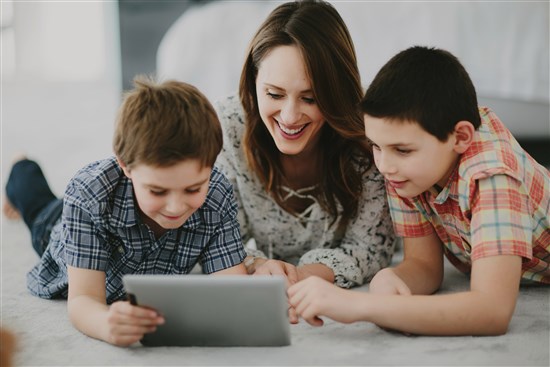 The world we live in today has become increasingly connected. Not long ago, most people only had a desktop computer and maybe, a laptop computer that needed access to the Internet or maybe a network-connected printer. In just a few short years it seems that every device in our lives can now communicate with other devices, store data on some remote location, automate some process, or allow us to communicate with each other in new and exciting ways. In fact, it is estimated that the number of connected devices will exceed 50 billion by the year 2020. It is not an exaggeration to compare a home's network to the digital "backbone" of your home that all other home technologies rely on.
This means that the Wi-Fi and the local area networks (LANs) within people's homes have become substantially more robust in a very short period of time. It also means that consumers may have negative experiences using networking hardware not engineered for today's higher bandwidth demands and the massive increase in the quantity of devices. This article explains why an enterprise-grade network is a MUST in every luxury home.
If You Had to Choose: Water or Internet?
Most people today would rather live without water for 24 hours than try to live without Internet access for the same amount of time.
And they'd willingly sacrifice their laptop or desktop computer in favor of a robust network connected to their mobile devices, smart TV, and streaming audio and video services. The Internet is not just for surfing the Web or checking Facebook anymore. Increasingly, it powers mission-critical systems in homes, from door locks and climate control to high-tech home entertainment systems. (And if you don't think entertainment is critical, try being stuck in a power outage with a surly teenager.)
Large businesses have had critical network needs for many years. Their requirements have typically been based on a need to ensure that the network is robust, secure, and scalable. Today's best home technology integrators are using similar networking hardware, setup, and monitoring to deliver networking technology that meets the demands of today's users at home.
Why You Need an Enterprise-Grade Network
When you are looking for a home technology integrator for a project greater than 2,000-square-feet (which describes most of the professional installations today), it's important to find one who understands the importance of an enterprise-grade network.
Additionally, the integrator must have the capabilities to deliver the components and service that make up an enterprise-grade system – either through their in-house staff or through a third-party networking provider. An enterprise-grade network deployment fulfills the following requirements that are not available with most consumer-grade home networks. Keep reading, there is a section dedicated to explaining the ins and outs of enterprise-grade networking components and what you need to know to ensure the network in your home is as secure and reliable as possible. If you would like to learn a realistic budget range of what an enterprise-grade network will cost for your size of home, use the Technology Budget Calculator here> https://htacertified.org/budget-tool
Extended Wi-Fi Range and Bandwidth
Do family members often stream video in far-flung locations of the house or across your property at the same time? Do you run bandwidth-hungry applications such as Video over IP (think accessing surveillance camera video or watching the same video content on several TVs simultaneously) for business or personal use at home? Do you host large parties in your home and want to provide your guests the convenience of reliable Wi-Fi? Do you want your home's Wi-Fi to reach distant areas of your property, such as poolside, beachside, or on a nearby sports court?
Homes constructed in the 1950s and 1960s typically maxed out at 2,000-square-feet. But today's luxury homes start at 3,000-square-feet or bigger. Home technology integrators regularly work in homes of 5,000-square-feet and larger. An HTA Certified integrator who works at the Luxury & Estate levels may regularly install systems in homes from 10,000-square-feet up to 100,000-square-feet.
Enterprise-grade products are designed for buildings of similar sizes and designed to accommodate a greater quantity of users. Any time you need Wi-Fi coverage to extend greater than 2,000 feet, you need multiple Wi-Fi access points, which are standard practice with enterprise-grade systems.
The vast majority of customers outfitting their homes with a new Wi-Fi network do not want a product that will have to be pushed to its limits just to reach across their home. Instead, they want a product designed for their space, or larger, so it can easily perform in their home environment.
Scalability to Grow with the Customer's Needs
Of course, not every residential project spans dozens of acres. But, regardless of the size of the home and property, the bandwidth requirements and the number of devices on the network will only continue to grow as new technology becomes available.
For instance, who would have imagined Internet-connected refrigerators or doorbells ten years ago? We can only guess what's next – or how much bandwidth it will require. Today's networks need to scale with a clients' needs.
Enterprise-grade equipment is constructed to be perpetually scalable, and if properly engineered, there will be limited downtime during an upgrade and a much lower risk of catastrophic network failure.
What Goes into An Enterprise-grade Network
It takes some very specific elements to fulfill the above requirements for an enterprise-grade technology experience. Many manufacturers claim to make enterprise-grade hardware. But if those components are not paired with enterprise-grade programming from experienced engineers and remote service and support, you may not get all the benefits of a full-fledged enterprise-grade solution.
Let's discuss all three elements of enterprise-grade networking solutions for today's homes, so you know what to look for when choosing a home technology integrator to install and service your network.
Enterprise-grade Hardware: Built to Last and Designed for Maximum Security
Enterprise-grade hardware is designed to last ten to thirty years without failure, contributing to its reliability. Homeowners should not have to think about their enterprise-grade network. It is built to last and is likely to outlive many of the devices on the network.
Enterprise-grade hardware has the capabilities built in to allow integrators greater visibility into the network to identify problems quickly, remotely, and resolve those problems through programming or design changes. From deployment to post-installation support, enterprise-grade hardware gives your home integrator the tools they need to keep your network up and running.
Additionally, security is a question on the minds of homeowners with Internet-connected components in their homes. Enterprise-grade hardware provides for a greater level of security built in to the main networking components (network switches, Wi-Fi access points, and router).
A security breach can send a business into bankruptcy. Businesses can't risk compromising on network security – and homeowners should not either. Enterprise-grade equipment installed by a professional integrator offers a much higher level of security to protect a home's network and the personal information stored on it than any "off-the-shelf," residential-grade components can.
Enterprise-grade Programming: Easily Scalable, Highly Stable
Enterprise-grade programming refers not just to the software itself, but to the engineers who configure and program it using best practices. These systems should be able to scale as your needs change.
This may be out of the realm of many home technology integrators who lack the depth and length of experience with enterprise-grade networking projects. But even if they do not offer this service in-house, if they partner with a technology firm that deploys thousands of enterprise-grade networks a year, you will get the benefit of that expertise.
Enterprise-grade Service and Support: Remote Monitoring and Management
In the home technology industry, many integrators have been trained to "power cycle" equipment when there is a problem. You have probably done something like this yourself when your Internet signal stops, you unplug the components, wait a minute, then plug them back in hoping that fixes the problem.
In the networking world, power cycling doesn't actually isolate or fix the issue. It just postpones the problem until that event occurs again.
Remote monitoring and management software allows the service team to pinpoint the exact cause of the problem and resolve it so it does not happen again—often without having to disrupt the customer's day by sending a technician to their home.
When integrators and their service teams have extended visibility into your network, afforded by enterprise-grade equipment, they can also provide proactive service. Technicians can detect a problem before it affects the technology experience and repair the issue, often before the customer even realizes there was a problem.
The Heart of Every Successful Smart Home Project: A Network That Just Works
The enterprise-grade network in your home should be virtually invisible. That is, you should be able to turn on any device, at any time, and simply have it work.
By using hardware with a lifespan ten to thirty years before failure, using best practices to ensure there is adequate overhead within the network to handle varying amounts of devices, by having the capability for remote monitoring and management, and a solid service team to stand behind the network, technology integrators can assure that level of rock-solid reliability and bandwidth to their customers.
Article by the Home Technology Association (www.htacertified.org)
This article was authored by Nathan Holmes, Technical Trainer at Access Networks
Access Networks' Technical Trainer Nathan Holmes is not only a networking subject matter expert, but also has an extensive background in the integration channel which provides for a unique understanding of the networking challenges faced by todays residential integration dealers. With intricate knowledge of the category and integration practices, Nathan often participates in installation best practice education, vendor partner product testing, presales design consultation, assistance in upgrade deployments, along with the occasional onsite installation assistance providing Wi-Fi site surveys, and post installation troubleshooting. Learn more about Access Networks here and at www.accessca.com
See more at insights.htacertified.org/articles